Digital lending: eMusic
The clock is ticking – free music every week at the library!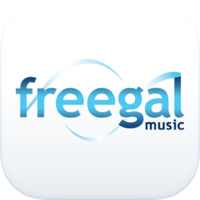 Freegal is the library's downloadable music service. You can download 5 songs each week and keep them forever.

Freegal music is compatible with any device that can play MP3 music format. Download songs to your computer or from the Freegal app.

Choose from over 16 million+ songs spanning more than 200 genres from over 23,000 record labels.
Start downloading from Freegal now →
---
Get started downloading music
Go to the Freegal page and Login (upper right corner) with your library card and PIN
Freegal is limited to resident city library card holders or those who purchase a non-resident Spokane Public Library card
You can download 5 songs per week, and your counter will reset every Sunday at 9:00 pm
Now find some music you want to download. You can browse the top albums, songs, or featured artists. You can also search for a particular artist, album, or song. Browse A-Z will take you to lists of music genres (such as classical or rock) and many artists and bands. When browsing, note that bands that begin with "The" will be located under the letter T, while musicians who use their whole name will be found under their first name
Once you find a song you like, you can preview it by clicking on the Play button next to the song. Click on the Plus button next to the song to Download it or add it to your Wishlist for later. Once you click on download, it will count towards your weekly total, even if you decide you do not want it
When you click Download, your browser will prompt you to Open or Save the file. Choose Save and your music will show up in the Downloads folder of your computer or in another folder you choose
Music videos can also be downloaded, but they will count as 2 downloads each
If you use the app, your Freegal songs will be downloaded directly into the app, where they can be played by the app
---
Tips for using Freegal music
Please ask a librarian, call the library at 444-5336, or come in and see us if you have questions.
See Freegal's Frequently Asked Questions for more details
All Freegal music is in MP3 format with no Digital Rights Management, which means you can play the music files on multiple devices without an expiration date
The keyword search on the main page will look for any of your terms in the artist, album, or individual song title fields. If you want to narrow your search results, go to Advanced Search at the top
If you experience a problem with your download, Freegal allows you to re-download your songs without affecting your weekly download limit. Just click on Downloads in the upper left corner. You will have two more chances to download before the songs are locked
If you accidentally click Open instead of Save during the downloading process then the song will simply play once and not be saved on the computer anywhere. Make sure that you designate a specific folder or location on your computer to save the MP3 files instead of clicking the Open option