Northwest Room Biographical Files
For over 100 years, librarians at SPL clipped the newspapers for biographical information.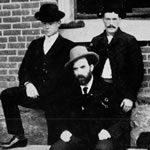 These clippings include obituaries on pioneers, but they also contain all kinds of biographical information from papers in Spokane and around the Northwest. The Northwest Room has created a database for every name in these files which includes over five thousand names. The files are not complete, but it's worth a try if you are researching someone local. If someone had more than three articles about them, they have their own file. If it was less, they are just filed alphabetically, but you can now check the database and it will tell you if we have anything.
If you find a name you are researching, contact the Northwest Room (444-5338) or send an email to the Northwest Room (nwroom@spokanelibrary.org) and we can check what is there for you. You may need to come in to make copies, but we can let you know what we have.