Northwest Room Fuller collection
The Fuller Collection consists of rare materials relating to the history of writing and printing.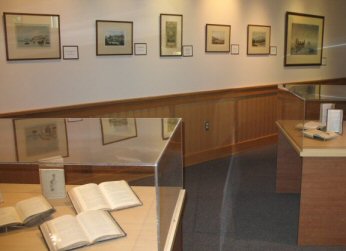 It is named after George Washington Fuller, Spokane's City Librarian from 1911 to 1936, who founded the collection. Fuller was a scholar and historian who authored A History of the Pacific Northwest, a standard text used in college history departments for many years. Some of the material he purchased on behalf of the library assisted in his research and became the basis for the present day Northwest Collection.
Fuller believed that, in addition to providing popular circulating books, an important function of a public library was to collect treasures of permanent educational interest. With the support of the Library Board of Trustees a portion of each years book budget was devoted to the purchase of items of lasting value. The result is a collection of rare books unusual to find in a library the size of Spokane Public Library.
The collection includes incunabula (books printed before 1501), Bibles and other works related to the history of religion, geographies, dictionaries, herbals, natural histories, plus a wide variety of early Americana. Some of the earliest examples of writing are part of the collection including clay tablets from Egypt, some over 4,000 years old. There are a few medieval manuscripts such as the Sentences of Peter Lombard. Examples of early printing include a leaf from the Gutenberg Bible, the first book printed from moveable type, and a 1493 edition of the Nuremberg Chronicle with over 2,000 woodcuts. Besides the leaf from the Gutenberg Bible, the Fuller Collection includes other significant versions in original or facsimile edition. such as the first English translation completed by John Wycliffe in the fifteenth century and a leaf from the "authorized" King James edition of 1611.
The geographies include two 16th century editions of the Hellenistic-era scholar Ptolemy, one featuring beautiful hand colored maps. The development of the English dictionary is represented from very early examples on, and includes Samuel Johnson's dictionary of 1755 and the first dictionary by Noah Webster from 1806. Some of the most beautiful books to view are the illustrated herbals and natural histories including early editions of James Audubon's Birds of North America, and Quadrupeds of North America. The collection of Americana includes almanacs, song books, early temperance and anti-tobacco literature, pro- and anti-slavery tracts as well as a first edition of Uncle Tom's Cabin, and several McGuffey readers from which thousands of nineteenth and twentieth century American children learned to read.
Selected items from the Fuller Collection are on display in Northwest Room. Items in the Fuller Collection are listed in the Spokane Public Library Catalog. Researchers may request to view particular items in the Fuller Collection by following the conditions outlined in the Policy on the use of Fuller Collection Materials.